I recently had a conversation with my beautiful friend from Texas and among many other things we began chatting about bathing-suit weather and sitting out by the pool. We both live in an apartment complex with other young adults, so when it's time to slip into a two-piece a whole new paranoia sets in, "can I really strut my stuff at the pool with all those other gorgeous people?"
I mentioned my discomfort to said friend and she completely agreed with me, which almost knocked the wind out of me. My friend (who I might have mentioned is beautiful) is 6'0+ tall with legs that go to heaven and she has the cutest little figure. I swear she could eat anything she wanted without gaining a pound, and she's worried about wearing a bathing suit...? In my mind I start thinking, "if she's worried about looking bad in bikini, the rest of us are doomed." But that got me thinking, is every women as paranoid as the two of us? As women are we so critical of themselves that we only see our flaws? And if so, how sad is that?
So, I decided that for this pool season I'm challenging myself to have more confidence. I'm not going to make excuses about not wanting to go sit by the pool because I'm too embarrassed. But in order to help boost my confidence I think I'll need a really great bathing suit (or two). Now here's the real problem; I'm pretty well endowed and I have a difficult time finding suits that fit well. I'd love to wear a little strapless number but I can't ever seem to find suits that are made for women with, well, womanly curves. I'm willing to splurge, so if you have any suggestions I'm all ears, please share! I'm looking for a classy two-piece (perhaps with a little support) but I'd be willing to try a one-piece. Did I mention that I'm headed to Aruba this summer with my husband, my in-laws, and my parents? So it will need to be fun, classy, appropriate, and most of all I want to feel like a million bucks in it.
Here are some swimsuits I have my eye on:
This Athena Heavenly Bandeau Bra swimsuit top has tons of potential. It looks super-supportive and it's classy and trendy. Plus I really love the color combination and the cris-cross detail.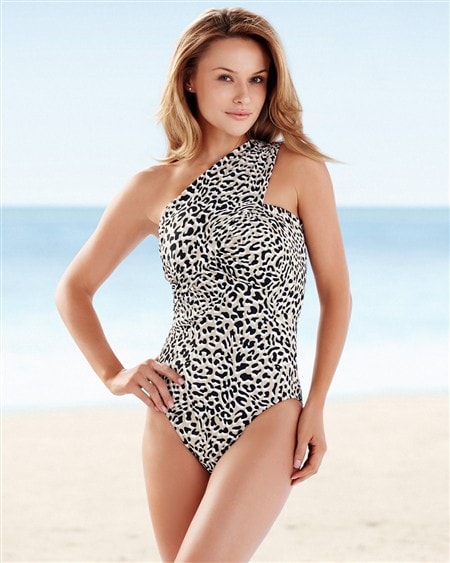 This Magicsuit Cameleon Goddess One-pice from Soma Intimates is a little outside my comfort-zone but I think it's a young take on a one-piece. Plus I love the one-shoulder look. I'm just not sure about the animal print. What do you think?
This is the Madi Push-Up Bandeau from Victoria's Secret. I love that there are tiny removable spaghetti-straps for a little extra support.
Thanks for reading.
Brittany