It's been a long week and it's only Monday!
I'm blessed to have President's Day off and I got to stay home and hang out with my big guy, which I really appreciated. Let me rewind and give you some context.
Atlanta cannot handle snow, ice, sleet, hail or if we're being honest, rain. After our last snow drizzle storm the city made national headlines because of poor planning and gridlocked roads. People spent the night in Home Depots, local churches or simply sitting in their car in the middle of the freeway.
This past week we were hit with round two of snow and this time everything shut down ahead of time. Like way ahead of time. A day before temperatures fell below freezing and a full 24+ hours before anything remotely resembling rain, snow or ice started falling from the heavens. So I was home Tuesday and then Wednesday and again Thursday.
It sounds like it would be magical, especially considering the 9 bottles of wine left over from Austin's birthday party, but we noticed the big guy had a fever Tuesday night. I didn't think anything of it. We just started daycare and now that he's a year old I've been waiting for the arrival of the infamous one-year-old molars. Wednesday the fever remained and he still had it Thursday. I couldn't take him to the doctor because the city was frozen and all non-emergency services were closed or postponed until the weather turned. So when the weather finally did turn and the snow melted Friday we were off to the pediatrician.
If you follow me on Instagram then you likely saw some pictures of Austin at the doctors office.
There were tests and shots and more tests and more shots. They hypothesized and sent us for x-rays. After talk of the flu and then pneumonia we were sent home with no real results. Friday night was bad. Bad for Austin because his fever was at its worse and bad for Mom and Dad because of little sleep and nerves.
Day two at the doctor's office
We went back to the doctor Saturday afternoon. There were more tests, more shots and now there was talk of RSV. Needless to say it was exhausting both physically and mentally. But something changed after that visit to the doctor. After his second shot of antibiotic Austin started acting like himself again.
Sunday and Monday have been 100% better and I want to thank all of those who reached out concerned. We don't know what got Austin sick or even what he was sick with but the antibiotic is working and he is a happy and healthy little boy. Mama is tired with an episode of the Bachelor and now 8 bottles of wine left. So on this late Monday night. I say to you goodnight and Happy President's Day.
Today I'm linking up with Kristin of mama & mou.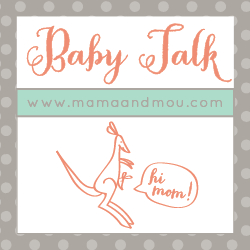 Be Blessed,